Our story
Ai Tre Scalini is an ancient winery that was founded in the 800 in the picturesque Rione Monti, at the time of ancient Rome called Suburra.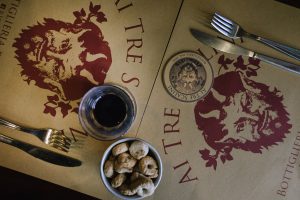 Officially bottiglieria since 1895, the place was probably already present even before via Panisperna and it was a place of escape and recreation, a "little town" where monticians and forastieri came to spend a few hours happy accompanied by a glass of wine, from a homemade dish and some stornello.
There are many stories that have collected the three steps over the years. Stories of hosts and patrons, of Montician bullies and physical scholars such as "I Ragazzi di via Panisperna", so many wars and so many loves.
From the exploits of "Checco l'avvelenatore", the legendary innkeeper who cooked his glaze on the stairs of the winery in the post-war period, to the cheerful evenings in the company of "Sor Leo" and the Watchmaker of via Urbana.
"How many have we seen and who knows how many more we will see", sang melancholy Gigi Proietti.
For fifteen years Barbara and Adriano try to keep everything as it was, allowing themselves only to add "some little thing" to this living museum, but above all faithfully respecting the old motto of the house: DIE YES, BUT NOT THIRST!